It has been proven over time that by going to play college basketball Australian athletes have developed their skills, received more lucrative professional contracts, and achieved more representative positions than player's that have not. Player's such as Andrew Gaze, Luc Longley, Andrew Bogut, Patty Mills, and up and coming players such as Matthew Dellevedova, Ryan Broekhoff, and Brock Motum have proven the benefits. In this 3 part article you will learn how to prepare and achieve your goal of playing College Basketball and/or the next level. Preparing to play at the next level takes time. It doesn't happen overnight it takes years of dedication, determination, and discipline. As one unknown author wrote, "There is no elevator to success. You have to take the stairs." Meaning it's a step by step process to sharpen your skills, to refine your craft, and to get better every day in order to achieve success.
Work Habits
The only formula I know in order to accomplish a goal is WORK. Therefore the question is 'how bad do you want to achieve your goal to play at the next level'? If playing basketball at the College level and beyond is not only a dream but a goal you need to understand how to work. You may think you know the definition of work, and I am hoping you do. However, I also hope I can redefine it in some ways to where you will push yourself to places you thought you could never reach.
Love to Practice
Do you want to be great or mediocre? Because being mediocre won't get you to your desired destination. A motto or theme we have as a College basketball program is 'Get Past Hard'. That means to push yourself above and beyond the threshold of pain, fatigue, and mental/physical exhaustion. A young player in our program may think he has given his all and is worn out physically. But overtime he realizes that he wasn't worn out physically but mentally. Once that realization occurs they become a much better player. Endurance increases, and their performance excels. Successful people are self-motivated in all that they do. They love to work, they love challenges, they love to push themselves past their limits, and they go above and beyond what they once thought they were capable.
Great players are great for a reason. They love the gym. They get shots up every day; they get into the weight room to condition or strengthen their core, and they want to be their best self. Bill Bradley a former NBA player wrote that he got 500 made shots every day without fail even shooting on Christmas day from when he was young right through the end of his NBA career. I believe 500 shots a day is a great barometer for players to reach for if they want to get to the next level. Find a way to get it done either in your drive way, at the local Church, or at the local gym; no excuses just results.
At Practice, develop a Michael Jordan competitiveness and determination. A famous Michael Jordan quote about training is, "I worked hard every single day. I wanted… [To] be the first guy onto the floor and the last one to leave" (Jordan, M 2005).You will find that by making yourself better your team will become better.
Great work habits translate into winning habits. Go the extra mile in developing your skills as a basketball player and have fun doing it.
The Price of Success
Are you willing to pay the price of Success? "If you're not practicing, just remember; someone, somewhere, is practicing, and when you two meet, given roughly equal ability, he will win" (Bradley, B 1998). I once Coached a player not too long ago who was very talented who had not much of a work ethic. He didn't know how to push himself in practice or in disciplining himself to get into the gym and work hard. When he did get into the gym he didn't sweat, and he would put up maybe 100 shots that were not at a game speed or that were game-type shots. Basically, he would go through the motions with his head phones on dreaming instead of achieving. His lack of discipline translated to games. When we were expected to have a successful season we would fall short of our Championship goals.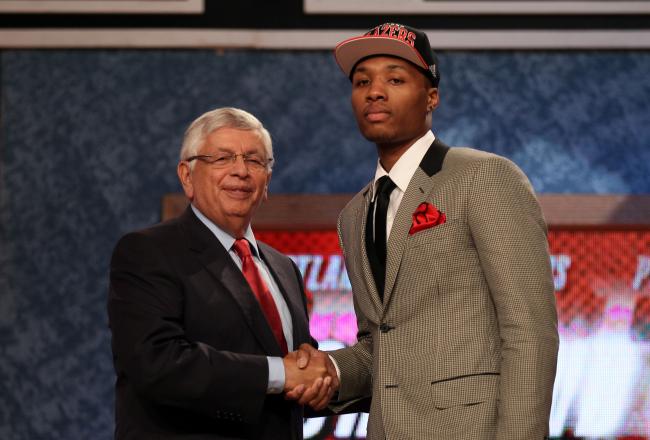 I remember one game when he was a sophomore playing at Weber State (a small low major division one school) which featured a player by the name of Damian Lillard. He clearly outplayed Damian Lillard in the game although we lost. You see a talented player with no work ethic can have great games but are random. In contrast, a talented player with a strong work ethic will have consistently great games and performances.
Two years later, Damian Lillard was the 6th pick in the NBA Draft while my player isn't playing anywhere. Damian Lillard had an unmatched work ethic and practice habits. He not only dreamed, but believed, and achieved.
Never get to a level of comfort with basketball. Always strive to get better and be the best you can be every day, and every year. Andrew Bogut said a true statement in an interview five years ago, "The best thing about basketball is you can never be perfect. No one has ever been perfect, and you can always get better, change something and improve. I'm looking to improve every facet of my game. The game gives you so much back. If you're willing to do the work, you respect what it takes to be on an elite level" (Graham, B 2007). Remember even Michael Jordan or Larry Bird missed shots, had turnovers, and got into foul trouble. You can always improve your skills.
Get better every day, in every way. See you in the Gym!
References:
Bradley, Bill. Values of the Game. New York: Artisan, 1998. 7.
Graham, Brad. "Andrew Bogut." Handle Magazine. Sep 2007: 60.
Jordan, Michael. Driven from Within. Atria Books, 2005. 29.